Since November 2019, the Association's President is Antoine Verglas, a renowned fashion photographer sharing his life between New York and Saint Barth.
It was created in 2016 by Emmanuel Leprince (
see bio here
) to promote artists inspired by Saint Barth. More than thirty painters, sculptors and photographers joined it.
The association organizes exhibitions and Art Parties in all of the 5-star hotels of the island : Hôtel Barrière Carl Gustaf, Cheval Blanc Isle-de-France, Christopher, Eden Rock, Rosewood le Guanahani, Le Barthélemy, Le Toiny, Manapany, Sereno and Villa Marie.
Together with Saint Barthélemy's Collectivity and Tourism Board, the Association organizes an Art Week every year with exhibitions all over the island and events every night of the week.
Nils Dufau, Tourism Board President: One of our goals is to allow art to play a key role in maintaining the loyalty of our upscale clientele, as well as place the island of Saint Barthélemy in a leading position as a top art destination in the Caribbean islands.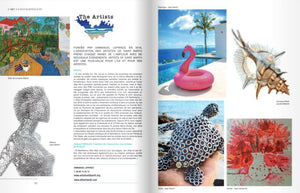 In the Media
On the right, an article in Tobeornot, Luxe magazine