part of the st barth fine art collection :
"Sous le Soleil" is a collection of images inspired by a lifetime of childhood holidays in south of France in the late 70s, St. Jean Cap Ferrat, my haven from worry and complications.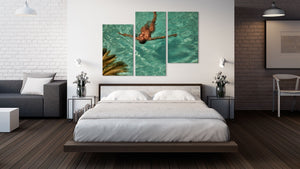 Special layout for luxury homes. Contact us for details
I was an eager spectator of lives imbued with effortless elegance at once both chic and casual, always sexy, full of beautiful, independent women who bask in freedom and sun, I soaked it all in.
Summer holidays in France was 8 weeks of "insouciance" and those memories have fueled "Sous Le Soleil", inspiring me as a photographer while evoking faded memories of a simpler time, of happiness, feeling good and of genuine living.
Here I take a journalistic approach, hiding behind my lens to capture experiences free from memory or imagination — simply living in the moment, enjoying the present.
This collection kindles the vibe of comfort, enjoyment and sensuality for all that view it, reminding us how much pleasure the stillness of mind and body can conjure.
With over 30 years of fashion and lifestyle photography experience, Frederic Pinet is a master in his field. As a photographer and video director, he spends his time traveling the world creating iconic images for luxury brands as well as print and digital magazines.
The French-born creative started his career by assisting renowned photographers such as Paolo Roversi, Steven Meisel and Mario Testino.
His skill, eye and joie de vivre led him to become a go-to photographer for many fashion magazines and celebrities. He has photographed supermodels and actresses like Penelope Cruz, Jessica Parker, Naomi Campbell and regularly collaborates with Vogue, Bulgari, Elle, Audemars Piguet, Adidas, BMW and many more global brands.
Frédéric Pinet's website