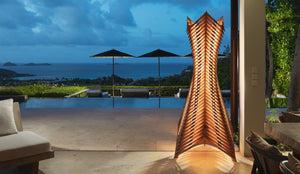 To Love Beauty Is To See Light
Unique lamps for a unique atmosphere
Providing a refined lighting and being a work of art in itself, the SPINE lamps are high-end objects designed for luxury homes
They are designed and hand-built in St Barth
6 or 8 sides
6-sided SPINE lamps are sharper and appear stretched skyward. 8-sided lamps are flatter and rest calmly on Earth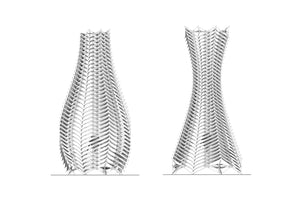 Convex or concave
Convex lamps will seduce you with their generosity while concave Lamps bet on their elegance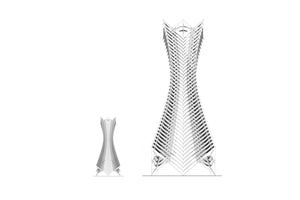 Two different sizes
Smaller 77 cm (30") lamps will sit perfecty on a coffee table. Larger 206 cm (81") can stay directly on the floor
Wood or Corian
Finaly sanded wood or Corian, a solid surface material used for high-end objects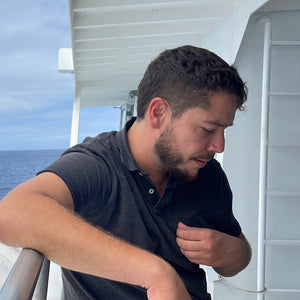 Born in Bulgaria, I was raised by my grandmother in a canyon village in the west of the country. My oldest memories are steep and vertiginous cliffs, natural tectonic breaks.
In 2006, I started studying architecture. Despite my ease with freehand drawing, I quickly realized that certain shapes are not drawn by conventional means. It is difficult for the hand to describe swarms, similar clusters made up of slight differences. I discovered the power of algorithms, processes devoid of gestural sensitivity but of an aesthetic that is only logical.
I have been practicing my profession as an architect in Saint Barth since July 2020. I explore its cliffs and its colored backgrounds which further reinforce my idea that Man will never be able to match, in his representation, the Beauty that nature grants us.
Ivo Nenov